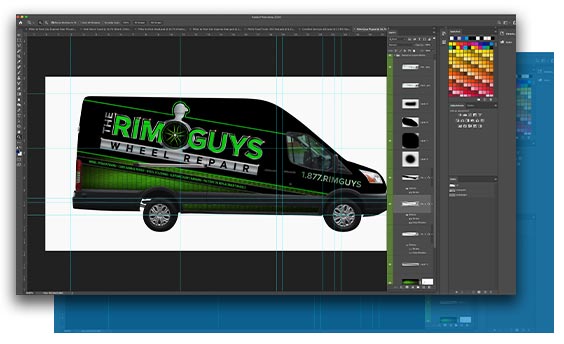 Design Makes the Difference
---
Here at Image Graphics our motto is "design makes the difference." That means we're passionate about giving you the best design possible. Our designers create original, engaging graphics that will exceed your expectations. Your wrap will be designed to be noticeable and effective. Many wraps attract attention but are too "busy" to easily read. Anyone can list information on the side of a truck with mailbox letters, but a properly designed graphic will not only convey vital information, it'll also get noticed and project a professional image to all who see it.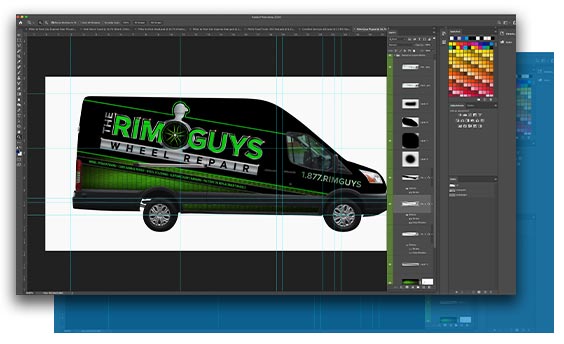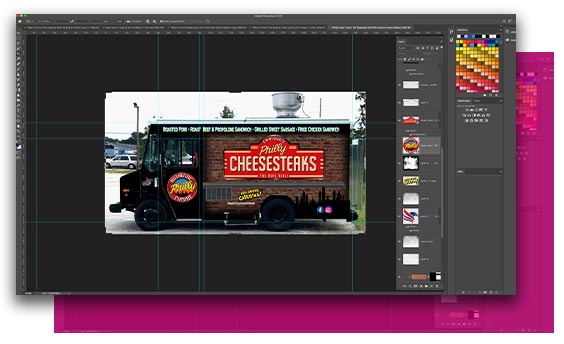 We Take the Time to Focus on Quality Design
---
An Image Graphics wrap on a full-size vehicle may have 200 to 500 square feet of vinyl and since the images must be of the highest resolution, they take a lot of time, even using the most powerful computers. Some companies either "throw in" or charge very little for the design aspect of a wrap. If they don't charge enough for design, they can't spend much time doing the layout. Worst of all, it means you're not getting the very best job possible.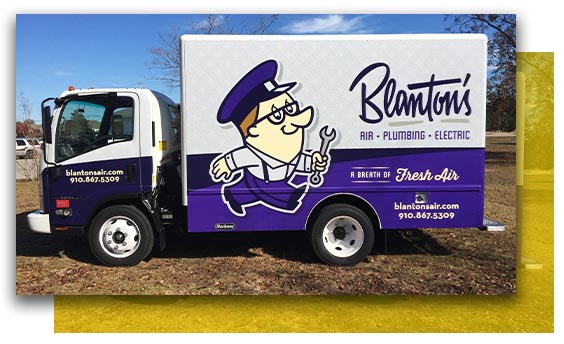 Already Have Your Artwork?
---
If your company has a qualified in-house design department or an ad agency that can do your design work, we will be glad to work with them. We'll give them help with submitting artwork that will work on your specific car, as well as technical support in terms of what color space to use, icc profiles, best file formats to use and more. If you use an in-house design agency, our setup fee will be reduced depending on how much time they save us.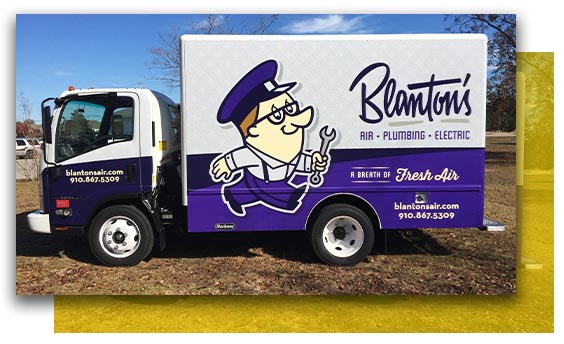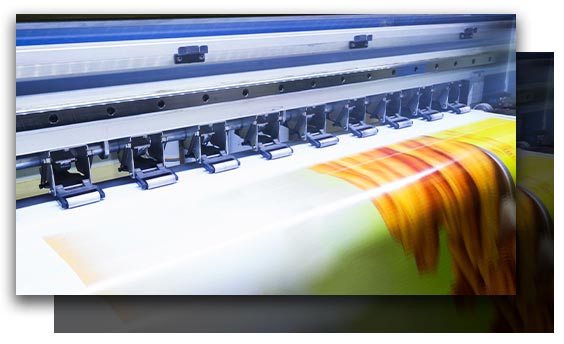 Production Using Only High-Quality Materials
---
There are many different brands and types of vinyl available. Most cost less than 3M 180 series wrap vinyl. This is an area we're not willing to compromise on. We use 3M 180-cv3 wrap vinyl exclusively, 3M approved inks and ALL wraps are laminated with 3M premium UV/Chemical resistant laminate. We have been in business over 20 years and over that time we've learned that a little extra money spent on premium quality materials is a good investment. Turnaround time on any print once final artwork is approved is a minimum of 36 hours. We allow this long to be sure that the solvent used in the printing process has time to fully cure out before the graphics are laminated.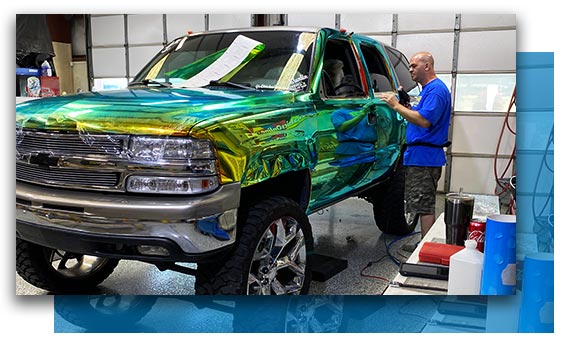 Proper Installation is as Important as Design
---
The best design printed on the best vinyl is not worth anything if it's not properly installed. Image Graphics is proud to be one of fewer than 10 companies in North Carolina to be certified by both the PDAA (Professional Decal Application Alliance) as well as the SGIA (Screen Graphic Installers Association). We have also completed 3M wrap training.
We install all wraps in a CLIMATE CONTROLLED facility. For best results, vinyl needs to be installed within a certain temperature range. We're one of the very few shops in the area that have our wrap installation bays not only heated, but air conditioned as well. This not only makes our installers more comfortable, but also reduces failures due to excessive cold or heat.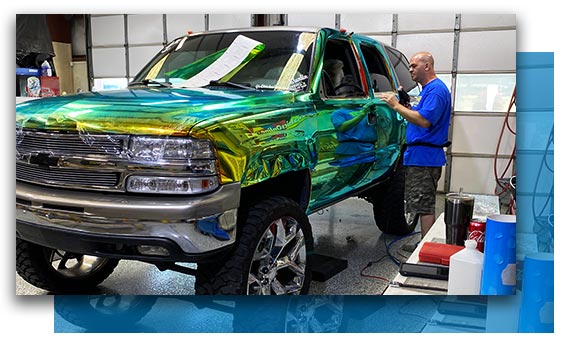 WRAP DESIGN PRICING
---
Design cost varies by project. Similarly, installation prices are based on how large the print is as well as the difficulty level in each individual car or truck. Contact us today for a free quote and schedule your no obligation design consult.
What Our Clients Say About Us
---
"Just picked up our third vehicle from Mark - the only person I trust to do our company vehicle decals and wraps! We have a Sprinter van and a Honda Fit that were also wrapped by him. We drive a solid hour (past many other options in Wake Co.) just to go to him because he knows what he's doing. Turn-around is so quick, only 2 days for a wrap once he has the car. He has successfully taken 3 of my non-professional-non-vectored plans and turned them into exactly what we are looking for. Keen eye for design as well as implementation. His wife Betty Jo and the rest of the staff are also super helpful and great to work with. An all-around family business you can feel good for supporting."
— Danielle S.
"Absolutely the best around in design and execution, our design and wrap is next level and could not thank Mark and his team enough for all the hard work put in. Mark only uses the highest quality materials and employs the best installers around. I cannot thank them enough!"
— Mark G.
"This company is amazing. I own a furniture store in Fayetteville NC called discount furniture and sent them a design for my sign logos. Not only did they give me an amazing price, they also made the logo a thousand times better than what I had designed. If I wasnt happy enough, they did the work in less than a week which completely blew my mind. The owner is an awesome guy and he will meet and exceed all of your expectations. Thanks for everything image graphics. You guys are awesome!"
— Robbie F.
"Absolutely awesome company! Went out of their way to accommodate myself and husband. We have a Ranger Bass boat and wanted a very detailed custom wrap! We had spent a week changing sponsors placement. It was no problem for Mark. He was a true professional. We get people asking all the time to take pictures. Excellent job Mark!!!! I wish I could give more stars."
— Angela F.
"The team at Image Graphics has done so many different things for our companies over the last 8 years. They have always done a fantastic job from logo designs & vehicle wraps to business cards, job signs & even corn hole board vinyl. Image Graphics is the best company around and we will continue our relationship with them for all future projects. Thanks Image Graphics!"
— Lewis H.
Get In Touch
---
Let us know how we can help you. We can't wait to hear all about your project, and answer any questions you may have. Complete our contact form, call to make an appointment, or stop by our office for a free, no obligation consult.
Hours of Operation
---
Monday - Thursday | 9am to 5:30pm
Friday | 9am to 1:30pm
Saturday - Sunday | Closed
Get In Touch
---
Let us know how we can help you. We can't wait to hear all about your project, and answer any questions you may have. Complete our contact form, call to make an appointment, or stop by our office for a free, no obligation consult.
Hours of Operation
---
Monday - Thursday | 9am to 5:30pm
Friday | 9am to 1:30pm
Saturday - Sunday | Closed