WRAP UP SALES WITH A FOOD TRUCK WRAP
Decisions to buy happen in seconds at festivals. Make it count!
START NOW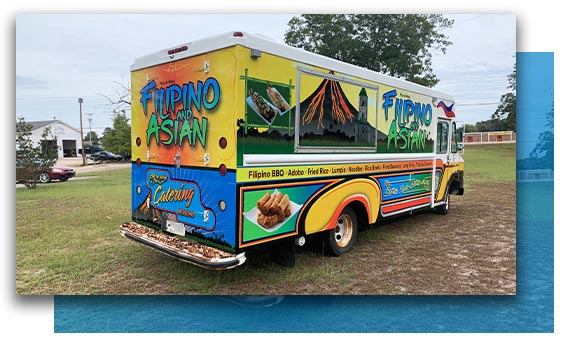 BRAND RECOGNITION IS ESSENTIAL
---
If you own a food truck, everyone passing should know at a glance what type of food you offer. You have just a few seconds to create a craving that will make them want to stop and eat at your truck.
According to an article on the 3M website, a study was done with a fleet of 70 different food trucks and this is what they found:
A truck with a plain wrap should sell 10% more food than a truck without a wrap

A truck with a good wrap should sell 10% more food than a truck with a plain wrap

A truck with a good wrap should sell 20% more food than a truck without a wrap
This just goes to prove that before you ever sell the first bite to a customer, they're already forming an opinion about the quality of your food. Is your truck dirty? Is it bland? People form impressions based on appearance, and that's a fact!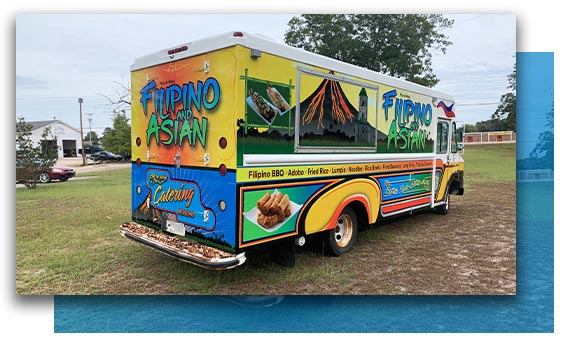 Use the Slider to Reveal Before and After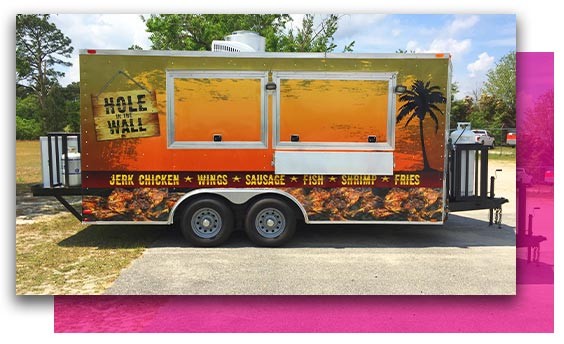 WHAT DOES YOUR TRUCK SAY ABOUT YOUR FOOD?
---
A well-designed food truck wrap is a mobile marketing powerhouse. Whether you're driving to your next stop, stuck in traffic, or set up and serving customers, your wrap is doing its job as an effective advertising tool.
Here at Image Graphics, our motto is "design makes the difference." That has never been more true than on a food truck wrap design. We will work with you to ensure that your wrap makes you look good and has as much impact as possible.
To make sure you get the best out of your wrap, we will work with you to understand your brand and what makes your food truck unique. In other words, what is your value proposition to the customer . . . what sets you apart, and of course what type of food do you sell? For example, if you offer tacos, it should be clear and very obvious it is a taco truck. The same goes for all other types of food. The type of food and your brand is what we will design the truck to showcase to potential customers.
Keep it Simple
---
Most folks have only a few seconds to make a decision as they drive by before being distracted by traffic. You want them to be able to tell, at a glance, what type of food you have, and what your brand is all about. Depending on where you are parked with your food truck, whether it is along a busy highway in Fayetteville, in the middle of Raleigh with lots of traffic, or even at a festival or street fair with lots of competitors, you want to stand out. Prioritizing copy, using bright attractive colors, and not overcrowding the layout are good approaches to having a powerful and effective food truck wrap.
Now that we've stressed keeping it simple that doesn't mean details should be ignored. We want to make sure that your brand comes across even if the serving window is open. We want to be sure your message is on every side of the truck if at all possible. That means using multiple locations to say the same thing. That way, if you are busy with customers lining up and perhaps blocking the view from one direction, others can still see your messaging. Also, make sure that your contact information and social media addresses are clearly visible. If drivers on the road like your truck and want to find you, they need to quickly see how they can follow you on Facebook, so make it easy to see.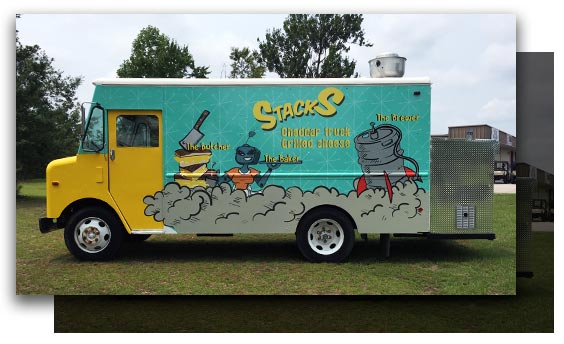 FOOD TRUCK WRAP PRICING
---
The wrap cost depends on size and complexity. Food truck and food trailer wraps can run anywhere from $2500 to $6000. The average cost to start a food truck business can be anywhere from $70,000 or more. When you do the math, a wrap costs 4% to 8% of that total and can potentially boost sales by 20%. This makes getting a wrap a no brainer.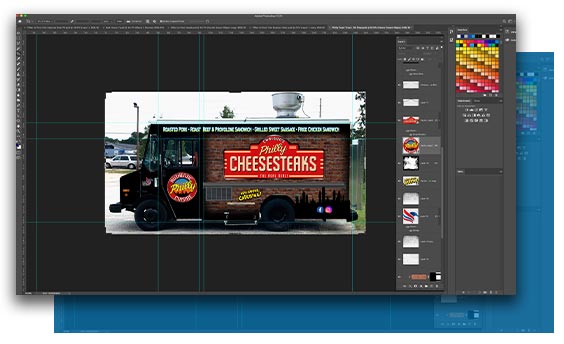 How it Works
---
PHASE 1: DISCOVERY & QUOTE
We will sit down with you and discuss your business
We will take pictures and measurements of your truck
Once we know exact sizing we provide an accurate price quote
PHASE 2: INITIAL DESIGN & REVISION
Approximately a week later you will get proofs
We can change colors, copy, and design as needed
Client provides final layout approval
PHASE 3: PRODUCTION
Your wrap is printed on premium grade 3M wrap vinyl
Your wrap is laminated to protect it against chemicals and UV light
Our certified installers install the wrap in our climate-controlled bay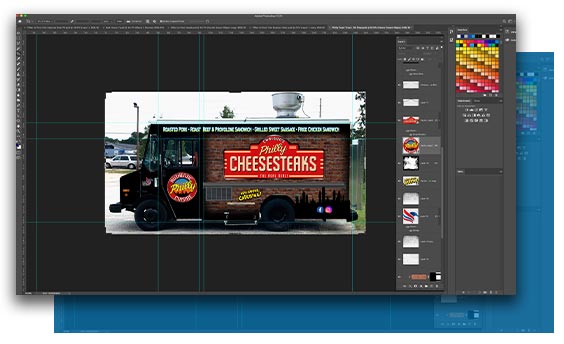 READY TO START?
---
Remember, in your business especially first impressions are a key to success. A food truck wrap is an easy and effective way to get across that your food is great and to build a craving that drives the customers to your window.
What Our Clients Say About Us
---
"Just picked up our third vehicle from Mark - the only person I trust to do our company vehicle decals and wraps! We have a Sprinter van and a Honda Fit that were also wrapped by him. We drive a solid hour (past many other options in Wake Co.) just to go to him because he knows what he's doing. Turn-around is so quick, only 2 days for a wrap once he has the car. He has successfully taken 3 of my non-professional-non-vectored plans and turned them into exactly what we are looking for. Keen eye for design as well as implementation. His wife Betty Jo and the rest of the staff are also super helpful and great to work with. An all-around family business you can feel good for supporting."
— Danielle S.
"Absolutely the best around in design and execution, our design and wrap is next level and could not thank Mark and his team enough for all the hard work put in. Mark only uses the highest quality materials and employs the best installers around. I cannot thank them enough!"
— Mark G.
"This company is amazing. I own a furniture store in Fayetteville NC called discount furniture and sent them a design for my sign logos. Not only did they give me an amazing price, they also made the logo a thousand times better than what I had designed. If I wasnt happy enough, they did the work in less than a week which completely blew my mind. The owner is an awesome guy and he will meet and exceed all of your expectations. Thanks for everything image graphics. You guys are awesome!"
— Robbie F.
"Absolutely awesome company! Went out of their way to accommodate myself and husband. We have a Ranger Bass boat and wanted a very detailed custom wrap! We had spent a week changing sponsors placement. It was no problem for Mark. He was a true professional. We get people asking all the time to take pictures. Excellent job Mark!!!! I wish I could give more stars."
— Angela F.
"The team at Image Graphics has done so many different things for our companies over the last 8 years. They have always done a fantastic job from logo designs & vehicle wraps to business cards, job signs & even corn hole board vinyl. Image Graphics is the best company around and we will continue our relationship with them for all future projects. Thanks Image Graphics!"
— Lewis H.
Get In Touch
---
Let us know how we can help you. We can't wait to hear all about your project, and answer any questions you may have. Complete our contact form, call to make an appointment, or stop by our office for a free, no obligation consult.
Hours of Operation
---
Monday - Thursday | 9am to 5:30pm
Friday | 9am to 1:30pm
Saturday - Sunday | Closed
Get In Touch
---
Let us know how we can help you. We can't wait to hear all about your project, and answer any questions you may have. Complete our contact form, call to make an appointment, or stop by our office for a free, no obligation consult.
Hours of Operation
---
Monday - Thursday | 9am to 5:30pm
Friday | 9am to 1:30pm
Saturday - Sunday | Closed