We Design and Install Custom Vinyl Boat Wraps
We design and install custom boat wraps for just about any boat, year, make and model in Fayetteville, NC
START NOW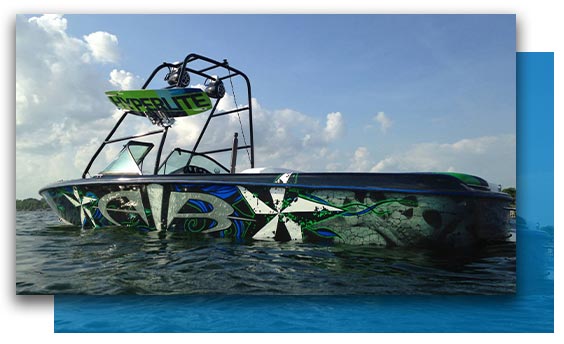 VINYL MAKES YOUR BOAT LOOK LIKE NEW FOR A FRACTION OF THE COST
---
Whether you have a boat with faded gelcoat that you would like to make look like new or a new boat that you would like to keep looking that way for better resale a boat wrap is the way to go. Your boat was designed by the manufacturer to give you years of enjoyment. As the years go by, however, it is inevitable that your gelcoat will experience fading from the sun as well as wear and tear.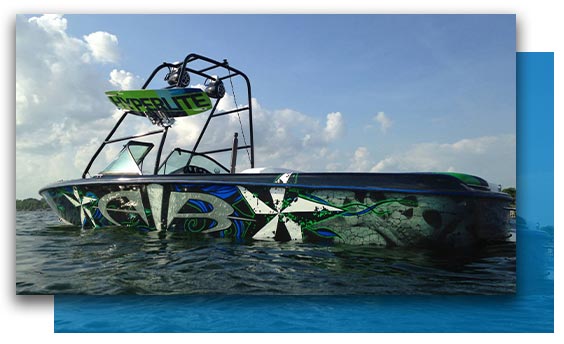 Use the Slider to Reveal Before and After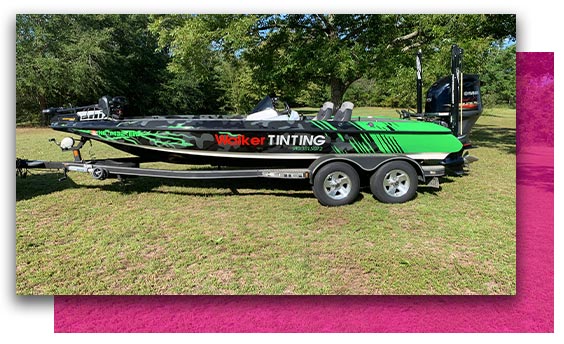 DON'T REPAINT, WRAP YOUR BOAT
---
Instead of renewing damaged paint with a high priced paint job, lots of boat owners are choosing to have us design, print and install a custom boat wrap. In addition to renewing the look of older boats, a custom boat wrap can protect your gel coat and prohibit further oxidation and deterioration.
Of course, design is our specialty and we will work with you to give your boat a look that you will be very happy with. However, the best design means nothing if the materials and/or installation are inferior.
EXPERIENCED INSTALLERS, ATTENTION TO DETAILS
---
Our installers are experienced and have great attention to detail about cleaning and prepping the surface for installation. We know our effort makes the difference in creating a long lasting durable wrap for your boat. If possible, we wrap your boat in once piece with no seams. We have installed boat graphics as large as 5 ft tall by 35' long in one piece! We work to minimize any stretching and we use edge seal tape to make your boat vinyl wrap look good and last a long time.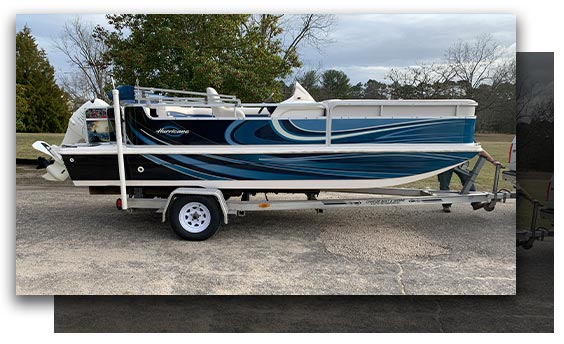 HIGH QUALITY MARINE GRADE MATERIALS
---
As far as materials we use only marine grade 3M wrap vinyl with 3M envision laminate (the best laminate that 3M makes). All prints are done at a high resolution on the highest performance materials using approved inks for crystal clear details. Our entire process will help you either restore an older boat like new or keep the paint on your new boat like new long after a painted boat has faded.
BOAT VINYL WRAP PRICING
---
Prices vary by boat and the amount of artwork required. Most of our wraps are far less than a marine paint job and can be installed in much less time. While we'll need to see your boat in person to give you a firm quote, we're happy to talk through your project and give you a free estimate.
What Our Clients Say About Us
---
"Just picked up our third vehicle from Mark - the only person I trust to do our company vehicle decals and wraps! We have a Sprinter van and a Honda Fit that were also wrapped by him. We drive a solid hour (past many other options in Wake Co.) just to go to him because he knows what he's doing. Turn-around is so quick, only 2 days for a wrap once he has the car. He has successfully taken 3 of my non-professional-non-vectored plans and turned them into exactly what we are looking for. Keen eye for design as well as implementation. His wife Betty Jo and the rest of the staff are also super helpful and great to work with. An all-around family business you can feel good for supporting."
— Danielle S.
"Absolutely the best around in design and execution, our design and wrap is next level and could not thank Mark and his team enough for all the hard work put in. Mark only uses the highest quality materials and employs the best installers around. I cannot thank them enough!"
— Mark G.
"This company is amazing. I own a furniture store in Fayetteville NC called discount furniture and sent them a design for my sign logos. Not only did they give me an amazing price, they also made the logo a thousand times better than what I had designed. If I wasnt happy enough, they did the work in less than a week which completely blew my mind. The owner is an awesome guy and he will meet and exceed all of your expectations. Thanks for everything image graphics. You guys are awesome!"
— Robbie F.
"Absolutely awesome company! Went out of their way to accommodate myself and husband. We have a Ranger Bass boat and wanted a very detailed custom wrap! We had spent a week changing sponsors placement. It was no problem for Mark. He was a true professional. We get people asking all the time to take pictures. Excellent job Mark!!!! I wish I could give more stars."
— Angela F.
"The team at Image Graphics has done so many different things for our companies over the last 8 years. They have always done a fantastic job from logo designs & vehicle wraps to business cards, job signs & even corn hole board vinyl. Image Graphics is the best company around and we will continue our relationship with them for all future projects. Thanks Image Graphics!"
— Lewis H.
Get In Touch
---
Let us know how we can help you. We can't wait to hear all about your project, and answer any questions you may have. Complete our contact form, call to make an appointment, or stop by our office for a free, no obligation consult.
Hours of Operation
---
Monday - Thursday | 9am to 5:30pm
Friday | 9am to 1:30pm
Saturday - Sunday | Closed
Get In Touch
---
Let us know how we can help you. We can't wait to hear all about your project, and answer any questions you may have. Complete our contact form, call to make an appointment, or stop by our office for a free, no obligation consult.
Hours of Operation
---
Monday - Thursday | 9am to 5:30pm
Friday | 9am to 1:30pm
Saturday - Sunday | Closed