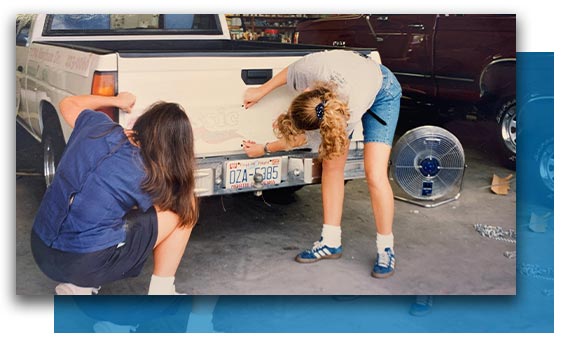 Customizing Vehicles Runs in the Family
---
In 1979, Mark and his father, Carl Averitt, started a business pinstriping cars at auto dealers lots. The original business was called C&M Stripe and Trim. The duo traveled from dealer to dealer installing pinstripes, custom graphics, luggage carriers and side moldings on all of the latest cars. It was hard work and they weren't rich, but they made it together as a family.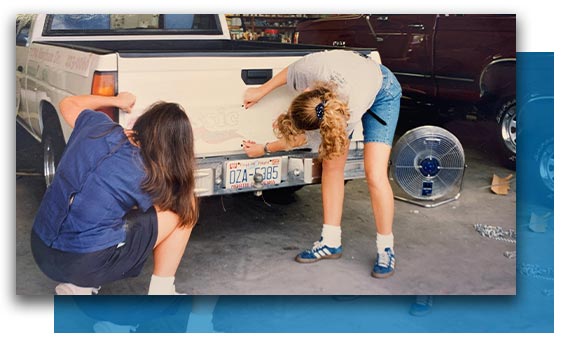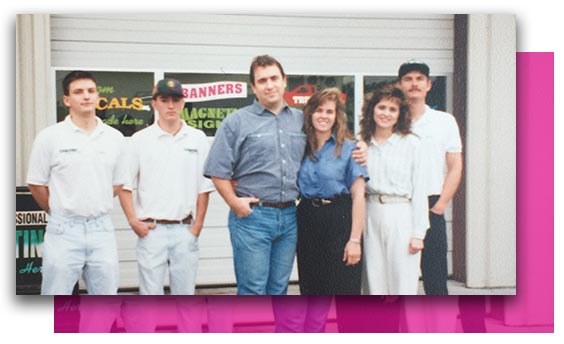 Image Graphics Grows With Technology
---
Years later, Mark met and married the love of his life, Betty Jo, and she joined the family business running a mobile graphics installation truck for Image Graphics (new name for C&M Stripe and Trim). That same year, Mark saw one of the original vinyl lettering machines and decided to buy this cutting-edge technology for their business.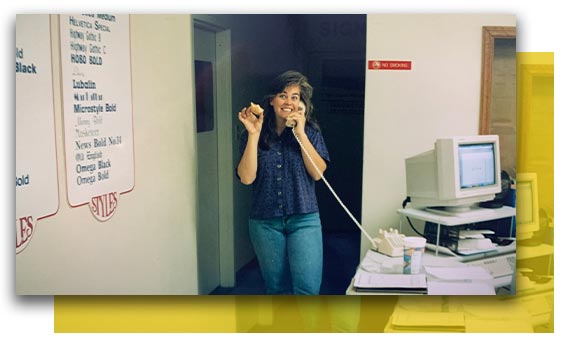 New Equipment, Same Work Ethic
---
Today, the Averitt family continues to work together with a new generation of designers and the latest, state-of-the-art vinyl wrap printer. They wrap countless trucks, vans, cars, ambulances and more, all with the same strong work ethic they started with. We look forward to serving you!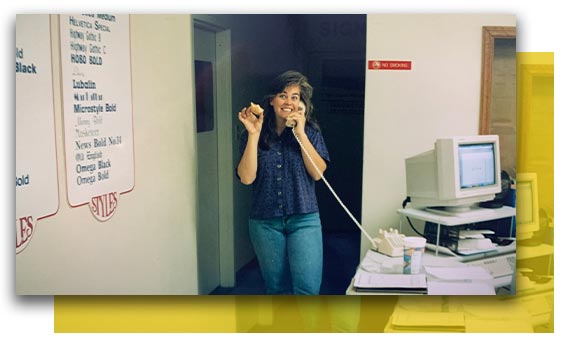 Meet Our Image Graphics Family
---
Founder & Designer
Mark Averitt
I've spent my entire adult life continually learning and keeping up with design and visual marketing. I'm primarily self-taught through hours of training videos, online courses, design books, etc.
A longtime member of NAPP (National Association of Photoshop Professionals), I have also attended Signlab University (advanced training classes for sign software) and completed PDAA training (Professional Decal Application Association). I am certified as an approved installer for warranty purposes by these vinyl manufacturers; 3M, Avery, Arlon, Mactac, and Oracal. Officially endorsed by 3M as a vehicle graphics installer, I have achieved level 4 (of 4), meaning I'm certified for the most difficult vehicle wrap installations. I also attended a formal wrap installation school at 3M in Minnesota.
My hobbies including marketing, advertising, motorcycle touring, kayaking, fishing, and camping, but most of all, I enjoy spending time with my wife Betty Jo and trying my best to deliver the best customer service possible each day.
Production Manager
Betty Jo Averitt
Betty Jo is the force that drives Image Graphics. Her duties include day to day accounting, inventory control, writing estimates and bids, answering the phone, installing graphics, running both a 60″ plotter as well as a 60″ laminator, cutting all vinyl, and above all keeping Mark on track (which alone is a full-time job). Betty Jo has also been certified by PDAA as an approved installer for all brands of vinyl. Most importantly, she greets everyone with a smile and always works to get every detail correct.
Logo Designer & Tennis Ball Launcher
Allison Averitt
Allison graduated from Fayetteville State University (two years early) with a bachelor's degree in Business Administration and a concentration in Marketing. She designed her first website for a paying client at 14 and has worked as a graphic designer for several small companies in N.C. Allison was also a marketing intern for the Small Business Technology & Development Center. She has experience designing logos, websites, brochures, posters, mailers, vehicle wraps, and more. She infuses her unique design magic into every marketing piece she creates! I think she's amazingly talented, and not just because she is my daughter!
Tennis Ball Chaser
Kramer Averitt
Carrying on the tradition of Cyrus, the original company mascot who was a 203-pound English mastiff, Kramer has big shoes to fill but is a great presence at the shop. If you pet him, or even better throw a tennis ball for him, you'll make a friend for life. (Allison's pitching arm sometimes needs a rest from throwing all the balls and she needs that arm to work on her designs). Kramer doesn't do any installations but mainly focuses on customer service with a smile and a wag.
Installer
Donnie Parker
Donnie has over 20 years of experience running his own sign shop and brings an excellent work ethic, a thorough knowledge of SignLab, and a very keen eye for design. He helps us offer sandblasted redwood signs as well as on-site sign installation. Donnie is also helps us keep our backlog of work to manageable levels.
Donnie is also a well-known professional wrestler under the name Timber the Insane Lumberjack. He has wrestled with the WWE and was the CWA heavyweight champion. (We thought about putting Donnie in charge of collecting past due accounts).
Let's Get to Know Each Other
---
Now that you've gotten to know a bit about us, we'd love to get to know you and your project.
What Our Clients Say About Us
---
"Just picked up our third vehicle from Mark - the only person I trust to do our company vehicle decals and wraps! We have a Sprinter van and a Honda Fit that were also wrapped by him. We drive a solid hour (past many other options in Wake Co.) just to go to him because he knows what he's doing. Turn-around is so quick, only 2 days for a wrap once he has the car. He has successfully taken 3 of my non-professional-non-vectored plans and turned them into exactly what we are looking for. Keen eye for design as well as implementation. His wife Betty Jo and the rest of the staff are also super helpful and great to work with. An all-around family business you can feel good for supporting."
— Danielle S.
"Absolutely the best around in design and execution, our design and wrap is next level and could not thank Mark and his team enough for all the hard work put in. Mark only uses the highest quality materials and employs the best installers around. I cannot thank them enough!"
— Mark G.
"This company is amazing. I own a furniture store in Fayetteville NC called discount furniture and sent them a design for my sign logos. Not only did they give me an amazing price, they also made the logo a thousand times better than what I had designed. If I wasnt happy enough, they did the work in less than a week which completely blew my mind. The owner is an awesome guy and he will meet and exceed all of your expectations. Thanks for everything image graphics. You guys are awesome!"
— Robbie F.
"Absolutely awesome company! Went out of their way to accommodate myself and husband. We have a Ranger Bass boat and wanted a very detailed custom wrap! We had spent a week changing sponsors placement. It was no problem for Mark. He was a true professional. We get people asking all the time to take pictures. Excellent job Mark!!!! I wish I could give more stars."
— Angela F.
"The team at Image Graphics has done so many different things for our companies over the last 8 years. They have always done a fantastic job from logo designs & vehicle wraps to business cards, job signs & even corn hole board vinyl. Image Graphics is the best company around and we will continue our relationship with them for all future projects. Thanks Image Graphics!"
— Lewis H.
Get In Touch
---
Let us know how we can help you. We can't wait to hear all about your project, and answer any questions you may have. Complete our contact form, call to make an appointment, or stop by our office for a free, no obligation consult.
Hours of Operation
---
Monday - Thursday | 9am to 5:30pm
Friday | 9am to 1:30pm
Saturday - Sunday | Closed
Get In Touch
---
Let us know how we can help you. We can't wait to hear all about your project, and answer any questions you may have. Complete our contact form, call to make an appointment, or stop by our office for a free, no obligation consult.
Hours of Operation
---
Monday - Thursday | 9am to 5:30pm
Friday | 9am to 1:30pm
Saturday - Sunday | Closed